2 tags
"[To develop originality] you have to think. If you are merely going to look at..."
– Robert Baxter
"But every once in a while, something really stupid happens on Wikipedia, and by..."
– Jason Scott
2 tags
The World's First and Only Completely Honest... →
Watch
Awesome! Those Red Giant guys are so cool.
3 tags
Debunkt! →
Never go up against a fontophile when death is on the line!
3 tags
"The Cloud" by Richard Clarkson →
More art piece than functional, but still cool.
3 tags
Why Won't Helvetica Go Away? →
Alastair Johnson on the rise of the font that's loved to a default.
5 tags
Matthieu Forichon →
I spent the last four days trying to hunt this guy down. He is awesome.
Watch
To get onto the front page of Vimeo, you need two things: tilt-shift and time-lapse. When I first encountered tilt-shift photography, I found it vaguely insulting. The implication seemed to be that humans were nothing more than ants. Now, though, I see it as a window into the universe. God is often portrayed as looking down "from a distance". I don't personally buy into this...
3 tags
6 tags
Watch
Big Brother is watching you.
One year after 3.11.11, We Are All Radioactive... →
It's important to remember the people of Fukushima. For us in West Japan, there was nothing to emotionally hold onto after the TV reporting exhausted its cycle. For the people in northeast Japan, there was literally nothing to hold onto but the clothes on their backs. I highly recommend these videos. It's important to remember and stand together.
9 tags
4 tags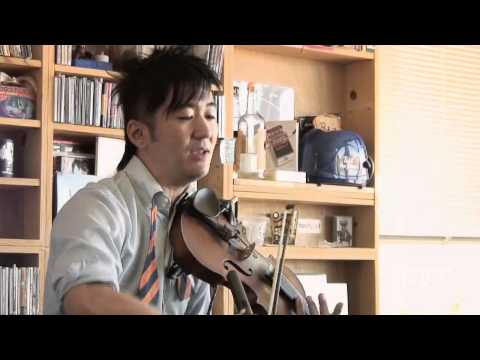 3 tags
"Nothing will stop you from being creative so effectively as the fear of making a..."
– John Cleese, from his talk on creativity given at the SMI Video Arts conference in 1991.
5 tags
Review: John Carter of Mars
The logo for JCM uses a clever mix of symmetry and asymmetry to invoke the canals of Mars.  Synopsis: JCM is the pinnacle of campy cool sci-fi wonderment. If you missed it and you are at all the kind of person who likes classic tales for boys or science fiction, you should go out of your way to see it. You won't be disappointed. A Little Backstory I went into John Carter of Mars fully...
Perfect Pitch
Using a minimalist black-and-white style, the short follows the story of a lonely young man in mid-century New York City, whose destiny takes an unexpected turn after a chance meeting with a beautiful woman on his morning commute. Convinced the girl of his dreams is gone forever, he gets a second chance when he spots her in a skyscraper window across the avenue from his office. With only his...
4 tags
3 tags
Euphoria
I had a headache for about nine hours today. It began as a slow build just as I was getting on the train, and it was relatively manageable until the sun went down. After that, it started to get bad. By my last lesson, it was strong enough that it was making me nauseous. After enduring the train ride home, I walked in the door and took the medicine that I had left in my other bag. Now, having just...
4 tags
Non sequitur
On the news, missile defense platforms have a backdrop of cherry blossoms.
4 tags
Informal Practice
As I was hurrying to catch my return train, I saw a couple of hip hop dancers outside the department store. I've seen people practicing dance there many times before, but today, it suddenly occurred to me what they were doing: they were using the window glass as a mirror to check their form. That kind of dedication to practice and ingenuity makes Japan special.
2 tags
3 tags
4 tags
3 tags
6 tags
JCM →
Andrew Stanton AND Michael Chabon!?! Come on, this has to be good.
2 tags
"Now the LORD provided a huge fish to swallow Jonah, and Jonah was in the belly..."
– Jonah 1:17
4 tags
"Show us a sign from heaven."
The Demand for a Sign  1 The Pharisees and Sadducees came to Jesus and tested him by asking him to show them a sign from heaven.  2 He replied, "When evening comes, you say, 'It will be fair weather, for the sky is red,' 3and in the morning, 'Today it will be stormy, for the sky is red and overcast.' You know how to interpret the appearance of the sky, but you cannot interpret the signs of the...
3 tags
The Modern Prometheus →
The tenor is good, but, unlike a real TED talk, there's no content to back up the haughty ambition. Also, the compositors went a little wild. It looks like TED will become about 100 times more popular than the Super Bowl by 2023. And the color grading. Ridley, can't you fix the white balance on those copter-cams? Or was the team too busy inventing cold fusion…
4 tags
Zing
On Asymco, user JohnDoey writes in response to a complaint about working conditions in Shenzhen: Bullshit. Pure, unadulterated bullshit. You are reading tabloids and regurgitating. Apple is big, but they are not as big as China. Apple does not own factories in China. Apple does not employ the workers in question. There is a counterpart to you in China who is looking at the iPhone and approving...
A Brave Move →
The thing that makes the second trailer great is that it's not a trailer, but a scene from the move. A scene from the movie that encompasses the premise of the whole show and makes you want to see it without giving away the entire plot. Brave indeed.
"It must often be so, Sam, when things are in danger: some one has to give them..."
– Frodo Baggins in The Lord of the Rings: The Return of the King by J.R.R. Tolkien
4 tags
Carpe Diem
On its surface, the whole philosophy of "seize the day" is so appealing. Anyone who has ever picked fresh fruit will doubtless remember the wonderful feeling of abundance when you bring it all home, carrying it in your shirt tails. There's nothing like downing strawberry upon strawberry, knowing that the overripe ones will go bad if they're not eaten just this minute. Cue William...